Graphics for Digital Cutters

Nugget Wrapper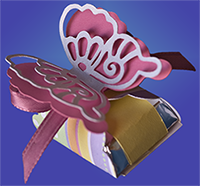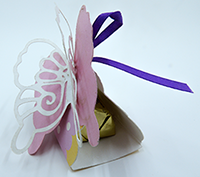 This is a photo of a project I did when Make-the-Cut was first released for the Cricut. It is a Hershey's Nugget Wrapper and belly band.
For Easter this year, I bought some Nuggets to add to my baskets and decided I would "brush off" the old file and create some wrappers to fancy them up.
Since the file fit the original Nugget quite well and cut beautifully, I just loaded it up and cut some.
Imagine my surprise when I added the recently purchased Nugget.
Is this indicative of...Charge you roughly the same...just reduce the amount you get for those same dollars?
Or did I miss the wording "bite size" on the packaging? It is long gone, so I can't check to see.
It was easy enough for me to change the file to fit the new size, which is the file on the previous page.
This is the file for the original nugget size shown here...just in case.
Make-the-Cut cutting file for larger wrapper
CoffeeCup Software